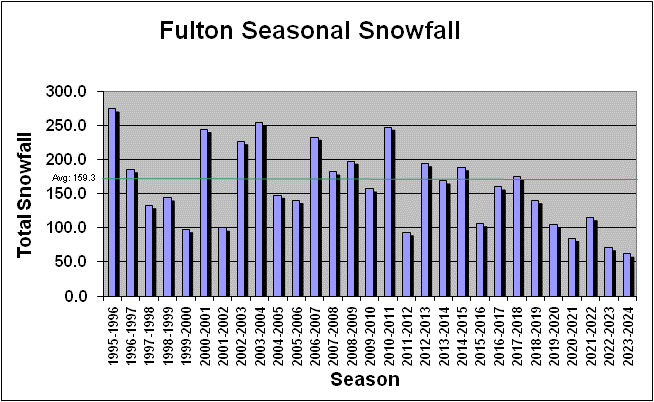 This chart shows the seasonal snowfall totals in Fulton, NY from the winter of 1995-96 through
the winter of 2013-14 through April 20th.

This shows the snowfall trends for the past 19 winter seasons.
Average snowfall for previous 18 years is 180.4".












Below is the snowfall chart for Syracuse, NY. A list of the amounts are below the chart.
These are from the last 58 winter seasons, from 1951-52 to 2011-12.

| | |
| --- | --- |
| Season | Snowfall (in.) |
| | |
| 1951-1952 | 100.5 |
| 1952-1953 | 77.5 |
| 1953-1954 | 85.9 |
| 1954-1955 | 101.4 |
| 1955-1956 | 146.8 |
| 1956-1957 | 76.1 |
| 1957-1958 | 141.1 |
| 1958-1959 | 137.2 |
| 1959-1960 | 134.8 |
| 1960-1961 | 130.5 |
| 1961-1962 | 77.3 |
| 1962-1963 | 116.6 |
| 1963-1964 | 83.8 |
| 1964-1965 | 97.3 |
| 1965-1966 | 118.8 |
| 1966-1967 | 83.0 |
| 1967-1968 | 81.2 |
| 1968-1969 | 97.9 |
| 1969-1970 | 125.5 |
| 1970-1971 | 157.2 |
| 1971-1972 | 133.7 |
| 1972-1973 | 81.2 |
| 1973-1974 | 123.2 |
| 1974-1975 | 105.5 |
| 1975-1976 | 95.8 |
| 1976-1977 | 145.0 |
| 1977-1978 | 161.2 |
| 1978-1979 | 118.5 |
| 1979-1980 | 93.4 |
| 1980-1981 | 79.0 |
| 1981-1982 | 137.1 |
| 1982-1983 | 66.0 |
| 1983-1984 | 113.6 |
| 1984-1985 | 116.4 |
| 1985-1986 | 104.9 |
| 1986-1987 | 93.5 |
| 1987-1988 | 111.4 |
| 1988-1989 | 97.8 |
| 1989-1990 | 162.0 |
| 1990-1991 | 96.9 |
| 1991-1992 | 166.9 |
| 1992-1993 | 192.1 |
| 1993-1994 | 163.8 |
| 1994-1995 | 66.9 |
| 1995-1996 | 170.9 |
| 1996-1997 | 131.1 |
| 1997-1998 | 134.7 |
| 1998-1999 | 98.3 |
| 1999-2000 | 85.8 |
| 2000-2001 | 191.9 |
| 2001-2002 | 59.4 |
| 2002-2003 | 153.2 |
| 2003-2004 | 181.3 |
| 2004-2005 | 136.2 |
| 2005-2006 | 124.6 |
| 2006-2007 | 140.2 |
| 2007-2008 | 109.1 |
| 2008-2009 | 149.6 |
| 2009-2010 | 106.2 |
| 2010-2011 | 179.4 |
| 2011-2012 | 50.6 |
| 2012-2013 | 115.4 |
| 2013-2014 | 132.0 |
| | |
| Avg. Snow | 118.19 |
Home